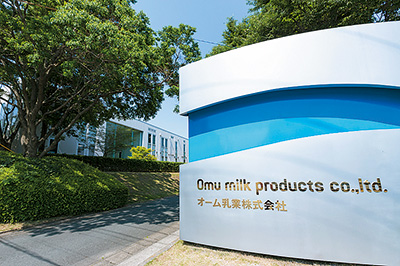 The history of Omu Milk Products Co., Ltd begins with Omuta Milk Products Co., Ltd. a company founded in 1934 with capital contributed by a group of dairy farmers from the cities of Omuta (Fukuoka Prefecture) and Arao (Kumamoto Prefecture).
Because our plant is located near a large number of dairy farmers, we can process raw milk in its freshest state. This fresh milk made in Kyushu by local dairy farmers is the key ingredient in all of our dairy products, from milk to cream to cheese. Our separation, emulsification and fermentation technologies together with our production control system take full advantage of the properties of fresh milk to provide our customers with the most delicious products possible.
In 2012, we became part of the Fuji Oil Group, and sharing in the group's corporate values, we strive to create new value that adding functionality to great tasting dairy products.
Since our founding, our mission has been to provide dairy products for delicious foods and good health. By using local milk to produce our unique products, not only do we create value for our customers, we also strive to build relationships of trust with local dairy farmers and other suppliers.
Yoshikazu Iyoda
President and CEO